As a pet owner, you love your fur babies and consider them part of your family. But have you thought about what would happen to them if something happened to you?
Estate planning is about asset management during your lifetime and after your death, when you want to ensure your loved ones (including beloved pets) are taken care of.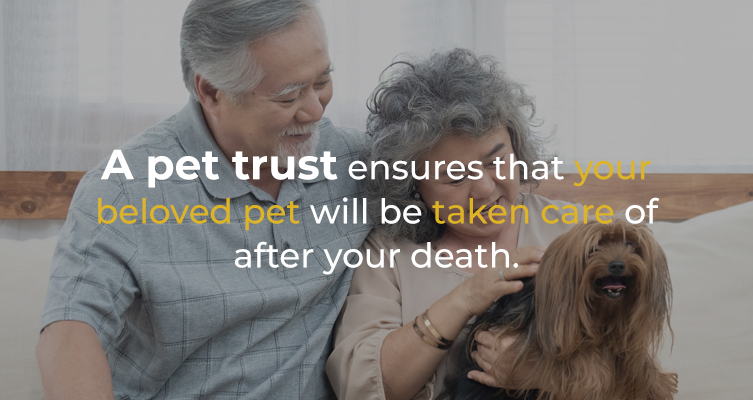 As part of your overall estate plan, a pet trust is a legal agreement that details a financial and care plan for your pet(s) in the event of your death or incapacitation.
In this article, we'll cover Pet Trust basics and show you how to create your own. Our Estate Planning team is here to answer any questions you have about your specific situation.
What does a Pet Trust cover?
As with any trust, you can specify what it covers and what it doesn't. Here are some ideas:
Routine vet check-ups
Emergency Veterinary care
Grooming appointments
Food and other everyday supplies
Boarding costs while the guardian is traveling
End-of-life care
Burial or cremation costs
How long can a pet trust last?
Each state has its own pet trust laws and rules. In Colorado, "unless the trust instrument provides otherwise, the trust terminates when no living animal is covered by the trust."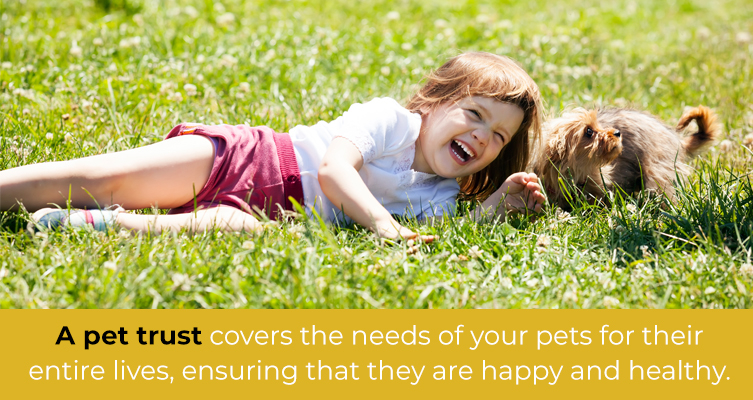 How to establish a pet trust
Our Estate Planning team can help you set up a pet trust and any other trusts you wish to establish. You just need to choose a person to serve as your pet's new caregiver. Here are some considerations to think through when you're establishing a pet trust:
Your pet's life expectancy
Current standard of living and care that you provide for your pet(s)
What you expect from your pet's new caregiver (the same or different standard of living)
Designating successor caregivers in case your pet outlives their original guardian
Frequency of reports from your pet's caregiver to the trustee
The odds of your pet developing a serious medical issue as they age
How much money you think your pet's caregiver will need to cover your pet's lifetime expenses
Contingency plans for how to distribute any leftover money in the trust after your pet dies.
Preventing Pet Trust Fraud
While it's not a pleasant thought, considering how to prevent fraud now will protect your pets and your money from abuse later on.
Get your pet microchipped and record the chip number in your pet trust document.
Include photos of your pet.
Describe your pet in specific physical detail.
The more your pet is specifically identified as yours, the harder it will be for a trustee or caregiver to use the funds fraudulently.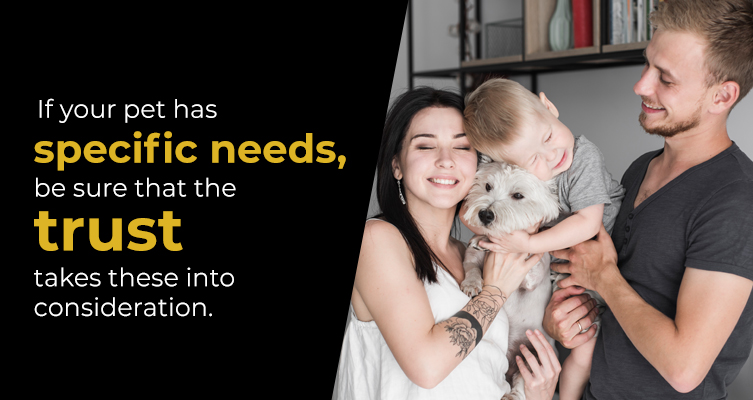 Specify your pet's needs and your wishes
When it comes to providing instructions for your pet's future caregiver, no detail is too small or too obvious. From the brand names of the food your pet likes–and the ones they don't–to where your pet likes to sleep, what times of day they usually go for a walk, their favorite place to be scratched, and more. Consider it a "day in the life" of your pet so that their routine will be disrupted as little as possible if they have to switch caregivers.
Do I really need a Pet Trust?
Of course, you can always just ask a friend or family member if they would take your pet upon your death. This works out some of the time, but not always, and you can never know for sure how it will go for your pet. The primary benefits of a pet trust are the fact that it's legally binding and provides funds for the care of your pet. And by designating successor caregivers, you can rest assured that your pet will be in good hands, supported emotionally and financially. Ending up in a shelter is the worst-case scenario for your pet if you pre-decease them, but it happens all the time. With a pet trust, you get peace of mind knowing that it won't happen to your precious Fido or Fluffy.