Are you prepping for a move to Cañon City, CO? We created this guide to help you acclimate to your new home. There is so much to recommend Cañon City, beginning with its semi-arid climate. Known as the "Climate Capital of Colorado," Cañon City's unique geography and high elevation shield residents from harsh weather. We don't get a lot of rain, barely any snow, and our winters are warmer compared to nearby towns like Grand Junction. That is one reason outdoor recreation is so popular here and we have an abundance of parks, trails, and bodies of water to enjoy. As the county seat, Cañon City also offers a full range of local institutions and services. If you have questions, our PB&T staff is here to help. Welcome to Cañon City!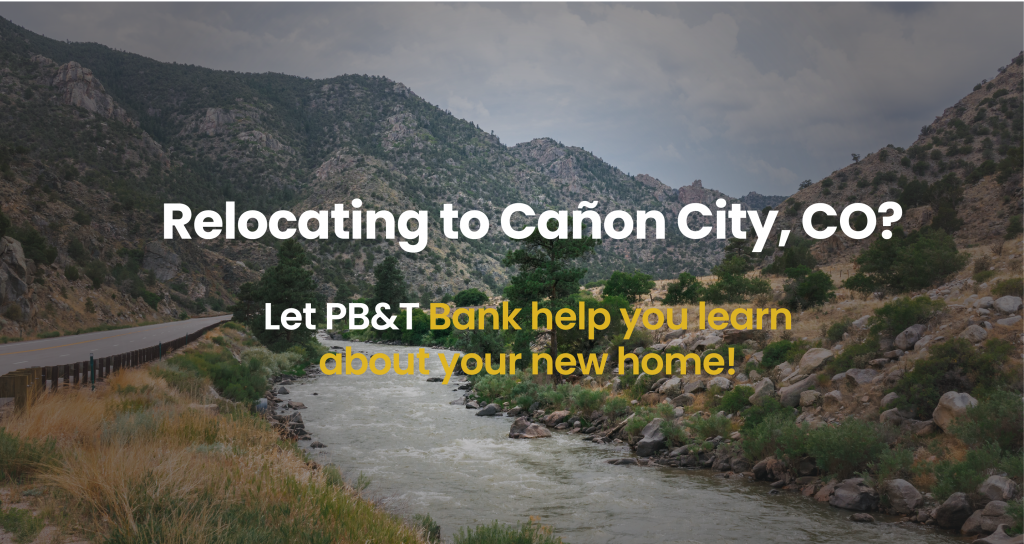 Overview
Nestled in the Rocky Mountain foothills, Cañon City is the seat of Fremont County. About 16,000 people call Cañon City home. The Arkansas River is a popular tourist attraction and downtown Cañon City is a registered Historic Area for its early 20th-century architecture. The commercial area is a great place to open a small business or to enjoy the variety of restaurants, shops, and art galleries that already exist. Many residents work in the healthcare industry, which is one of Cañon City's largest employers. The Fremont County Industrial Park is also a hub for businesses and jobs.
Cost of Living
Living in Cañon City is more affordable than the national average, according to Sperling's Best Places. It is also significantly less expensive than the statewide average for Colorado. With a median home sales price of $205,700 and relatively low taxes, Cañon City offers something for everyone – a walkable downtown, new housing developments, outdoor recreation, school choice, and more – at a price point that is friendly to the average family.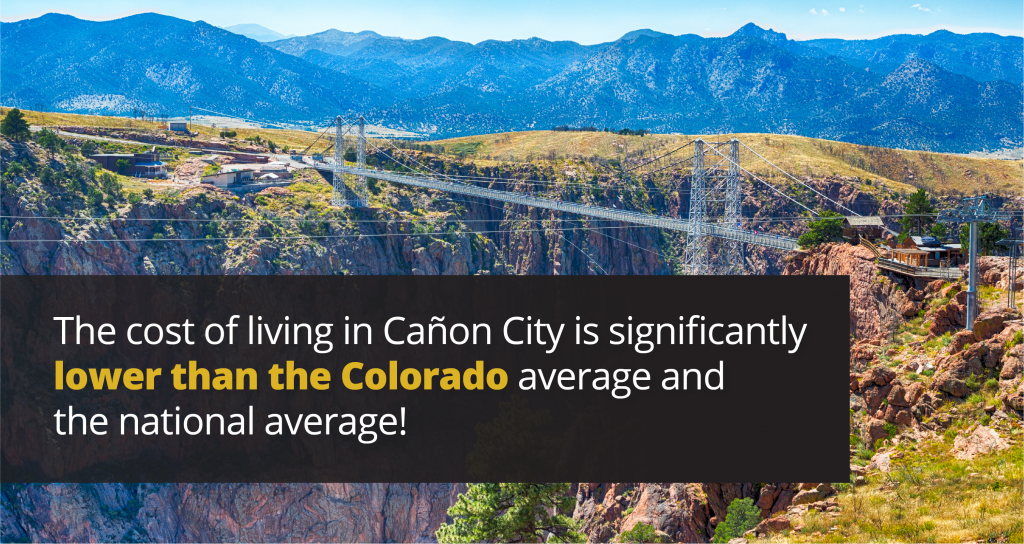 School Districts & Private Schools
"Learning for life!" is the motto of the Cañon City School District. It has one public high school and a variety of K-8 school options including:
For information on early childhood options, including Fremont County Head Start and the Colorado Preschool Program, visit the Cañon City ECHO & Family Center's website.
Beyond early childhood, Cañon City's private school options are mostly faith-based. They include: Four Mile Adventist Christian School (K-8), Calvary Christian School (K-11), and Canon Christian Academy (K-12).
The Fremont Campus of Pueblo Community College is located in Cañon City. PCC offers degree programs for career preparation or transfer to a four-year institution.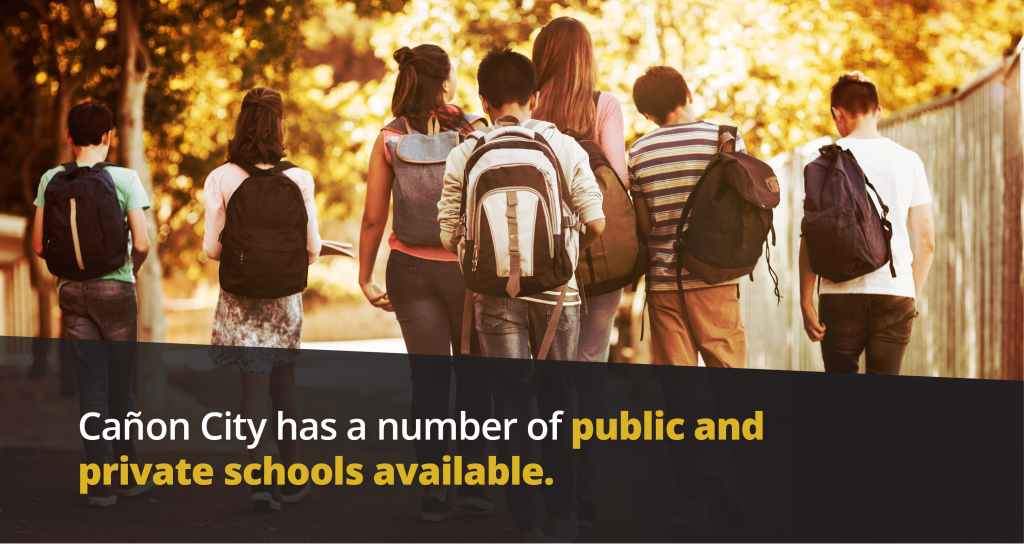 Local Services & Utilities
As the most populous municipality in Fremont County and the county seat, Cañon City offers all of the services and utility options required for modern life. From basics to entertainment and more, we have everything you need to set yourself up comfortably in your new home. Here are a few selections:
Call 719-269-9015 to start your Cañon City water service.
Spectrum is the primary service provider for Internet, Mobile, TV, and Voice service in Cañon City.
Black Hills Energy provides electricity to the area.
Atmos Energy is a natural gas provider.
The Cañon City Public Library offers a variety of programming for children and adults.
Your grocery needs can be met by several local stores including the organic City Market, Walmart Supercenter, and Safeway.
Centura Health is the primary healthcare network in our region, offering everything from emergency & urgent care to neighborhood health centers and specialists.
The Fremont Center for the Arts offers exhibits as well as classes for children and adults.
There are a variety of faith communities in Cañon City to meet your spiritual needs including Anshey Hashem Jewish Congregation, many Christian denominations, a Church of Jesus Christ Latter-Day Saints and Jehovah's Witnesses. There is also an Islamic Society of Colorado Springs.
Park Center Water District (outside of Canon City limits): 719-275-2055
Community Events
From monthly First Friday art walks to June-October farmers markets and seasonal festivals, Cañon City offers year-round fun to residents and visitors alike. Here are some highlights:
Home and Garden Show
Music & Blossom Festival
Royal Gorge Pro Rodeo
Florence Steampunk & Wine Festival
Fourth of July Celebration
Fremont County Fair
Harvest Festival
Trunk or Treat
Turkey Trot/Turkey Bowl
Christmas Parade of Lights & Tree Lighting Ceremony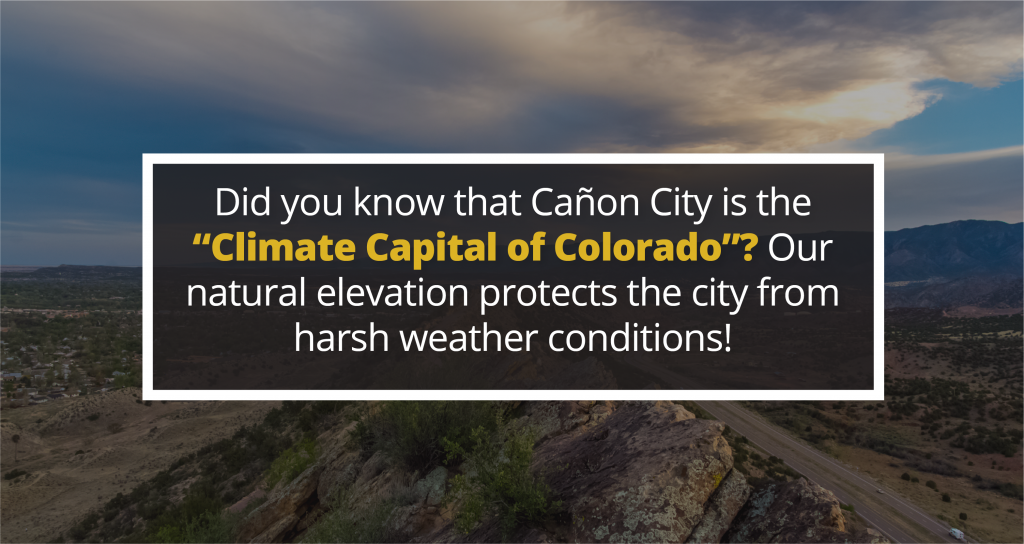 Parks & Recreation
Cañon City offers outdoor fun for families and people of all ages. The local nonprofit Fremont Adventure Recreation hosts a variety of events centered around community-building and healthy living. And we have many public parks and trails including:
Centennial Park, 221 Griffin Ave.: Features picnic shelters, tennis and basketball courts, interactive playground, splash pad, white water park, boat take-out.
Garden Park, Red Canyon Rd.: Discover fossils and a geological historical trail.
John Griffin Park, 575 Ash Ave.: River Trail and Bluff Trail, both one mile long and open-space.
Hogbacks, Skyline Drive Area: Kids and other aspiring paleontologists will love the dinosaur footprints in this park.
Mountain View Park, 922 N. Orchard: Offers a skate park, playground, soccer field.
River Front Rec Area, 401 Water St.: Enjoy river access, a trailhead, playground, and fishing pier.
Red Canyon Park, Red Canyon Rd.: Natural mountain park and open space with scenic red rock formations and options for camping, rock climbing, and picnics.
Riverwalk, PCC to MacKenzie: 7-mile walking trail along the Arkansas River
And more! Visit the Cañon City Area Recreation and Park District's website for a full listing of parks, youth and adult sports, special events, and more.
Partner with PB&T for all of your personal and business banking needs!
PB&T has consisted of local people making local decisions since 1889. Visit our Cañon City Branch at 1401 Main St to learn more about the variety of deposit accounts and personal and commercial loans we offer. For your convenience, we are also open on Saturdays from 9-12 in the lobby and 9-1 for drive-up banking. Our friendly employees will make you feel right at home and can answer any questions you may have about local services. Contact PB&T today!