Whatever you're looking for out of life, you can find it in Colorado. From urban living in Denver and a vibrant metro area that extends south to Pueblo to small-town living in Longmont and breathtaking views in Leadville, the highest elevation town in the country, people often move here to "find their calm" and enjoy outdoor activities.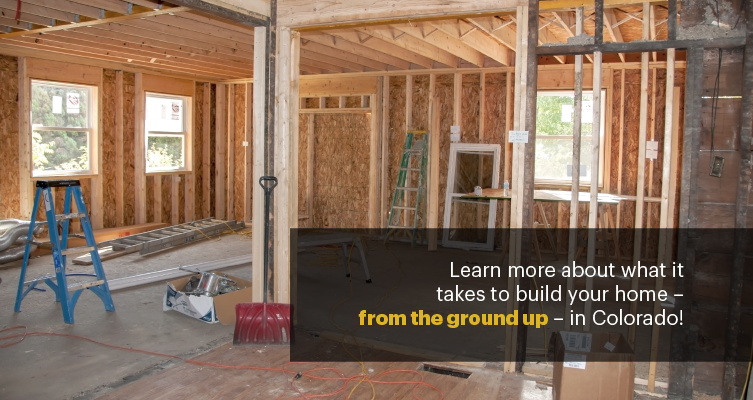 Perhaps the only downside to Colorado (if you're new) is the hot housing market. Many aspiring homeowners find that it's cheaper to build a brand-new home nowadays than to buy an existing one. As a longtime community bank, PB&T is proud to offer construction loans in Colorado to help our customers realize their dreams of homeownership. In this guide, we'll walk you through the home building process and touch on home renovations in case you own a home but need to make some changes. If you have any questions, don't hesitate to give us a call at 1-888-728-3550.
Finding a Lot to Build On
Looking for loans to build a home in Colorado? PB&T Bank has served Colorado for so long that we have come to know our communities inside and out. Read more about some of these areas by reading our relocation guides for Pueblo, Leadville and Cañon City to find out which area might be best for you and your family.
Once you settle on one or two preferred towns to look in, you'll want to find a real estate agent with experience in land lot transactions. Here are some of the most important considerations in choosing a lot:
Logistics: If you'll be commuting to work, consider the lot's proximity to highways. Winter weather, construction, and forest fires can all contribute to traffic jams.
Services and Shopping: What amenities are nearby? Depending on what matters to you, you may want to be close to the grocery store, doctor's office, restaurants, etc.
Snow removal: Who is responsible for providing this service? Will you have to do it yourself?
Zoning and setbacks: Make sure the lot is approved for residential use and that you'll have access to the road.
Utilities: Will you need to dig a well and/or install a septic system? Is electricity already connected? Will you be able to get natural gas or propane?
Soil and Topography: Look out for rock formations and soil quality that is best for building on.
Natural Resource Rights: Water, mineral, and timber.
Property Taxes: Vacant land is usually taxed at a higher rate, so if you buy a land lot and build on it, you probably won't see much increase in taxes even though your overall property value has increased.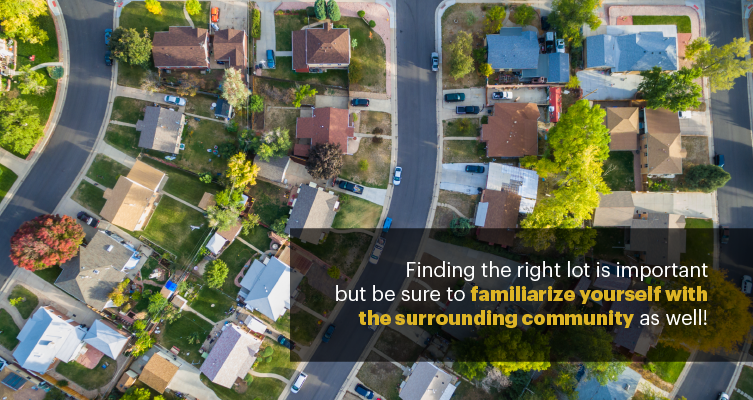 Using a Construction Loan to Build or Renovate a Home
A construction loan is a short-term draw note, typically 6 to 12 months in length, that is used to finance the cost of home construction. Both individuals and contractors can apply for home construction loans. Money is advanced as work is completed.
How To Apply for a Construction Loan
Pre-qualify for your permanent mortgage to determine how much you can spend.
Choose a building site.
If using a contractor, identify floor plan and building costs.
If building your own home, identify the floor plan and exact costs.
Budgeting For Construction
Once your construction loan is approved, you'll have a ceiling for your construction or renovation budget. Your builder will give you a basic cost for the floor plan you choose. For many people, issues arise when it's time to choose interior and exterior finishes and details. While it may be tempting to choose "the best of everything," that's a good way to go over-budget in a hurry. Instead, think about what you'll use the most in your new home. For example, you may like the idea of having a "chef's kitchen," but if you're more of a frozen dinner or takeout kind of person, you probably don't need the most expensive appliances.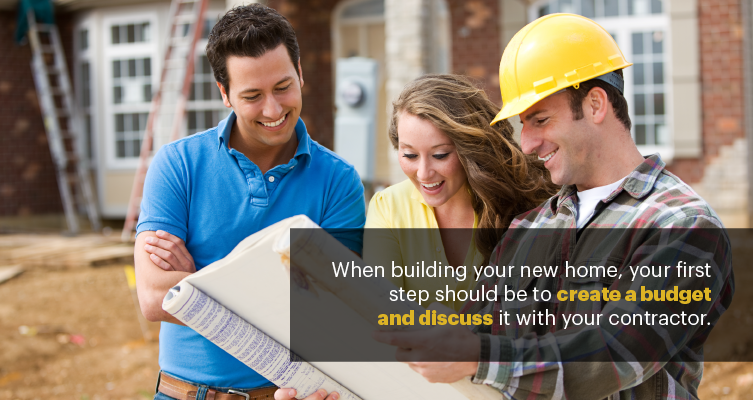 Planning For Each Stage of the Construction Process
Level the site and pour foundation: Clear site of rocks, trees, and other debris. Dig a well or full basement if applicable. Then you'll have your first inspection to ensure the foundation is up to code.
Create the house's skeleton of rough framing: Floor system, walls, and roof systems. Sheathing gets applied to exterior walls and covered with protective wrap.
Install rough plumbing and electrical HVAC: Pipes and wiring, sewer lines and vents, water supply lines, bathtubs, shower units, HVAC ductwork and vent pipes. More inspections of these systems to make sure they are safe and installed properly.
Insulation: Install the appropriate type of installation for your location/needs to improve energy efficiency and create a more comfortable indoor environment.
Drywall and interior fixtures: Begin exterior finishes including drywall, texturing, primary coat of paint, and brick/stucco/stone exterior.
Interior trim, exterior walkways, and driveway: Doors, windowsills, decorative trim, cabinets, vanities, fireplace mantles, and the final coat of paint.
Hard surface flooring, countertop; finish exterior grading to provide proper drainage from the house, and prepare for landscaping.
Finish mechanical trims and install bathroom fixtures.
Mirrors, shower doors, finish flooring, and exterior landscaping.
Final walk-through: make any necessary corrections or adjustments.
When you're serious about building, you need a serious bank.
PB&T Bank has been providing reliable loans and banking services since 1889. When it comes to your home construction or renovation project, you need a bank that understands your needs. Our longtime community presence gives us nuanced insight into local construction projects. Call 1-888-728-3550, send us an email or visit one of our locations for more information on our construction financing.